Mechanisation Support Scheme
SUBSIDY ON AGRICULTURAL MECHANIZATION  SCHEME (SAMS)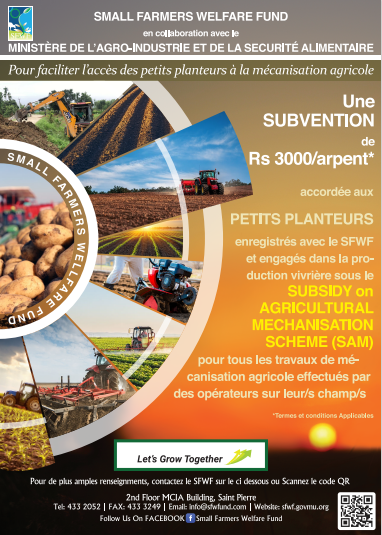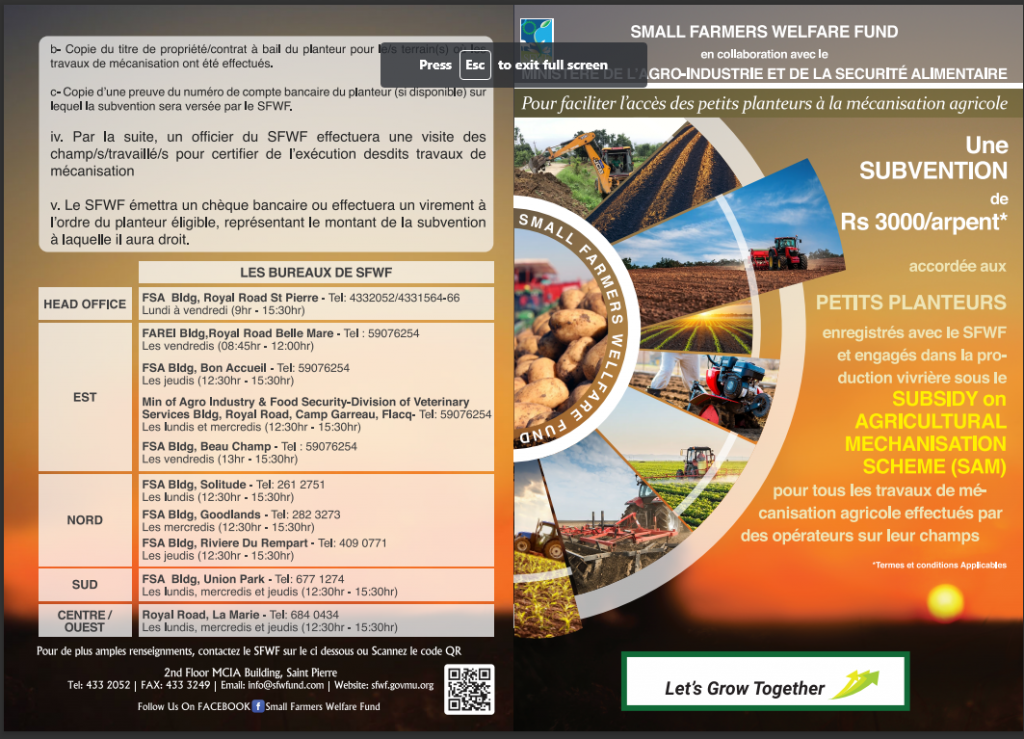 SMALL FARMERS WELFARE FUND
2nd Floor, FSC Building, St-Pierre, Republic of Mauritius
Tel: (230) 433-2052/1564-66Fax: (230) 433-3249 Website: info@sfwfund.com
REGISTRATION OF POTENTIAL SUPPLIERS OF AGRICULTURAL LAND MECHANIZATION SERVICES
1.              The Small Farmers Welfare Fund (SFWF), working under the aegis of the Ministry of Agro Industry and Food Security, is setting up the Subsidy on Agricultural Mechanisation Scheme (SAM) to provide subsidies to small registered foodcrop planters to conduct mechanisation works on their fields.
2.                  The works involves the use of crawler/ wheel tractors and other type of machinery for:
Technical Terms
  Ripping (Routé)
  Raking (Pass Peigné)
  Furrowing (Silloné)
  Disk ploughing (Disqué)
  Bulldozing (Bulldozé)
  Derocking
  Rock removal and carting away (Tire roche)
  Bed forming (Fer plate bande)
  Excavation (Fer drain)
  Other agricultural operations and related works (e.g. construction of field drainage systems)
3.            Under the SAMS, subsidy to the tune of Rs 3,000/arpent will be provided to small registered foodcrop planters for any one or multiple operations w.r.t agricultural land mechanization services as listed at (2) above.
4.            The SFWF is therefore inviting local potential suppliers of agricultural land mechanization services to register themselves with the Fund to provide the different operations as listed at (2) above to small foodcrop planters around Mauritius.
5.            The supplier must execute the works at the satisfaction of the concerned planters.
6.             The SFWF would not bear any liability in terms of dispute between the planter, supplier and any third party in terms of payment and property damage.
7.          Applications with relevant documents, in a sealed envelope marked "Registration of Potential Suppliers of Agricultural Land Mechanization Services" addressed to the 'Manager – Small Farmers Welfare Fund' should be submitted to the Small Farmers Welfare Fund, 2nd Floor MCIA (ex-FSC) Bldg, Royal Road, St Pierre.
8.            Applicants should submit,
a)       Business Registration Number,
b)       VAT registration Certificate (where applicable),
c)        Horsepower for each tractor owned by the applicant,
d)       Full contact details, including telephone and fax numbers,e-mail address whichever is available.
9.             Potential Suppliers who do not possess the documents at Section 8 above may do needful to avail for the same and register themselves at a later stage with the SFWF, after obtaining the necessary documents.
10.         The price of items should not be submitted at this stage.
11.        The Fund has no contractual obligation(s) towards the applicant(s) and this exercise shall not entitled the applicant(s) to become the exclusive supplier(s) of the Fund.
11 October 2021 
                                                            Download Supplier Registration Form